Operation Teddy Bear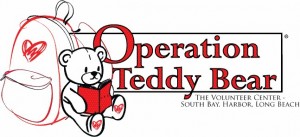 Operation Teddy Bear is an outreach program that gives hundreds of volunteers the opportunity to pack and deliver thousands of schoolbags to first-grade students in our service area. The volunteers use the gift as an opportunity to inspire the children to be kind and helpful.
The Need
Operation Teddy Bear® is a literacy program that in the 16/17 school year will focus on 5,700 of the most underserved first-graders at elementary schools with a high percentage of children eligible for the Free and Reduced Meal Program as part of the Federal Title One program. The Los Angeles Unified School District reports that 74.3% of its enrolled students live at or below the poverty line and the Long Beach Unified School District reports 72.1%. Poverty causes many of these Title One students to arrive at school without adequate educational supplies, clothes and food to begin their day. These circumstances create special needs in the areas of education, literacy and self-esteem.

How We Help The Children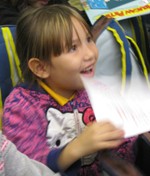 Operation Teddy Bear® helps to address these issues by giving literacy schoolbags to children in such schools. The program now takes place during the school year and is funded entirely by donations from individuals, corporations and foundations. Each brightly colored schoolbag is crafted by homeless US veterans in Carson. Items in the bag may includes items such as reading books, a toothbrush, coloring books, pencil crayons, math flashcards, pencils, and of course, a Teddy Bear. When schoolbags are delivered to a classroom, our hundreds of volunteers also take the time to sit and read stories to the children and share about how volunteering is important in the community.
This year the teachers will also receive boxes of supplies for the children through the program. These boxes may include: glue sticks, student achievement certificates, stickers, more pencils, white board markers and eraser set, and math workbooks. This multi-faceted approach sets the children up for success. Everyone wins!
Click here to see a beautiful video of Operation Teddy Bear in action.
What You Can Do To Help
Work as a team to collect literacy and other supplies
Warehousing and setting up materials
Packing schoolbags
Mailing support (Year around)
Delivery of bags of schoolbags to schools
Reading to the children (heart-warming…even tear-jerking)
Support an individual child's bag for $55.00. Donate a bag today!
Adopt an entire school of 20 to 500 students and develop a relationship between your group and your adopted school's children and teachers.
For information about our wonderful support group, the Affinity Group, please click here.
The joy of Operation Teddy Bear:
Carver Elementary
(from Kinecta Federal Credit Union)

Gulf Elementary – Ms. Espiritu's Class
(from Kinecta Federal Credit Union)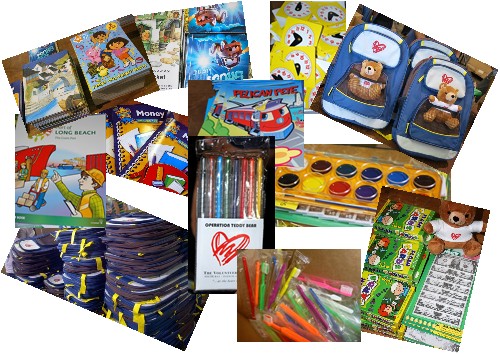 To make a difference in the lives of so many underserved first graders, please email us at volopps@volctr-sobay.org
OTB is only possible because of our sponsors. Thank you!
Operation Teddy Bear® is a registered trademark of the Volunteer Center, South Bay–Harbor–Long Beach.