Food For Kids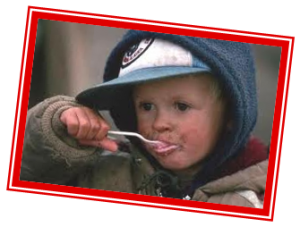 How can any child concentrate on education when they are hungry? Poverty causes many students to arrive at school Monday morning without adequate nourishment. Simply put, these children are hungry and in some cases have not eaten since Friday's school lunch. These circumstances create special needs and have dramatic effects on educational progress and self-esteem. Title One schools supply breakfast and lunch on school days… but who provides for them during the weekends?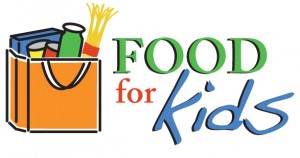 Food For Kids is a Volunteer Center program that delivers non-perishable food to Title One elementary school children in the Carson, Compton, Long Beach, San Pedro, Torrance, and Wilmington school districts. The food is to be consumed over the weekend by these underserved families. Every Friday, Volunteer Center volunteers assemble and deliver shopping bags to the schools/students. Each bag is filled with ten (10) items of non-perishable food, for example: pasta, tuna, oatmeal, soup, applesauce, rice, beans, canned beef, peas and cereals. This provides food for the family for the weekend. Each family also receives one of five nutrition flyers provided by Providence Little Company of Mary Medical Center Torrance and the USDA.
Please help!
1. Donate
Each bag of food costs approximately $26.00. Donate to Food For Kids!
2. Join Pantry Partners
Click here to learn more about Pantry Partners, which provides food for South Bay children on weekends. We are looking for members with skills in these and other areas of building a community:
Food wrangler
Brain-stormer and leader
Volunteer herder
Party planner
Go-fer and task hole-filler

Donation seeker
Sponsor strong-armer
Team-building event planner
Roster and member coordinator
3. Donate Food
Review our list of appropriate food items and drop off your non-perishable food donations at our Torrance Food Pantry. We only accept food that has not passed its expiration date.
4. Support a Food Drive
There is a food drive for every type of organization. For a range of fun and productive ideas, please our Food Drive Tips and Tricks.
You are very welcome to come meet us or we can speak to your group. I do hope we can work together. What you do makes a difference to real children and is deeply appreciated by the children and their families. For more information about how else you can help please email us at volopps@volctr-sobay.org.
The real story: International Elementary School letter to the Volunteer Center
I just want to tell you how much this project has helped our families at International Elementary School. This has always been a needy area; however, in the twelve years I have been here there has never been such a high number of homeless families. There are actually so many families that are in need that we have found that we need to keep a spreadsheet so that we know who we have given to and that we rotate each week so that we can help as many families as we can. There is such desperate need that we are not helping as many families as we would like to.
Here are a few examples of the families your program touches:
Maricela is a parent that would always help the school with fund-raising, PTO meetings, you name it. This year, however, her life has changed. Her husband and father of three had a major stroke that left him paralyzed. Maricela who had never worked is now working to support her family. They had to move to an apartment that was less expensive and his mother had to move in to assist with daycare so Maricela could now work. The family has really been struggling financially not to mention the heartbreak of seeing him suffer.
Another story is our little Isaiah who comes in late everyday because he is homeless and sometimes has to travel further to get to school. He usually has not had breakfast and sometimes has not had dinner because they didn't get back to the shelter in time to eat dinner. We always have something for him to eat in the office because he cannot concentrate on school work when his belly is empty.
If you ever question whether your program actually helps, please know that without the food that your program provides a lot of families would go hungry. I only wish that we could help more but are so grateful that we could help any at all.
It is hard to tell some families that we cannot give them anything this week but maybe next week but we find we have to do that a lot these days as there are just so many that need help.
Again we would like to say thank you for all that you do and please tell your donators that they really do make a difference and without their generous donations all the little Isaiahs would go hungry and the families going through personal and financial struggles would find it even more difficult to put food on the table. Thank you again for all that you do.
Leticia Keller
Secretary/Office Manager
International Elementary School
---
To watch a short video of local media coverage of both the needs and the Food For Kids solution, please click the image below.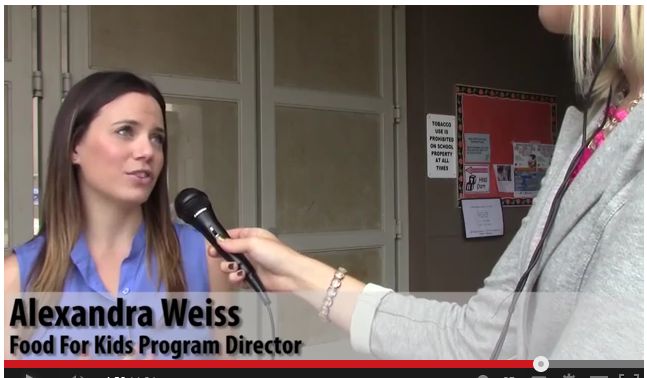 The Volunteer Center presents how Food For Kids is helping our community.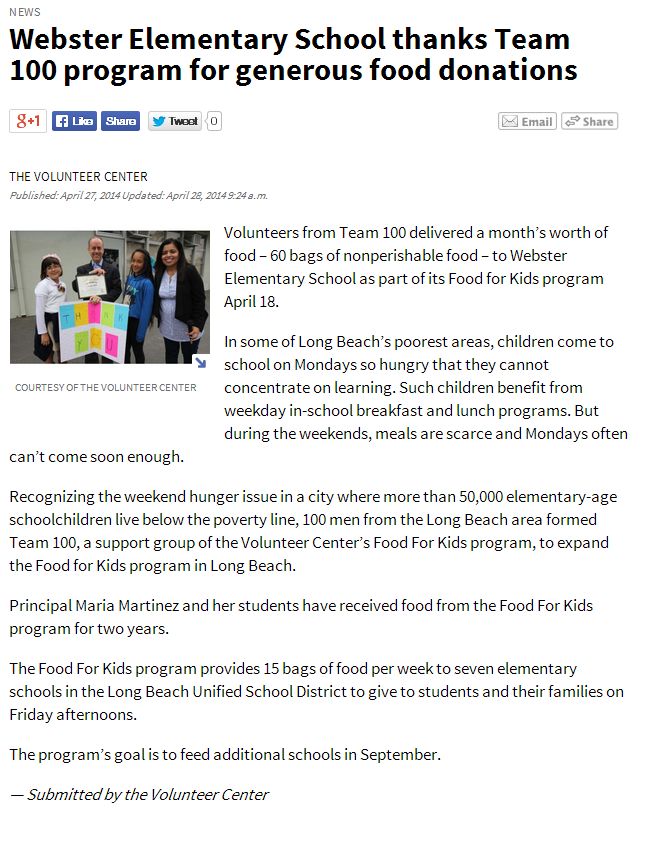 Long Beach Register April 28 2014 Webster Elementary School thanks Team 100 program for generous food donations
To read a another recent story in the Press Telegram, click here.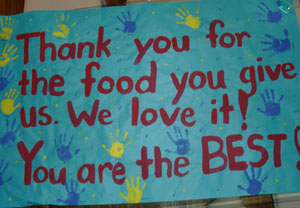 The children of Jefferson Elementary School thank the Food For Kids Program