Check out our 2016-2017 Progress Report!
Last May, we asked you to make donations to support a number of projects. As a follow-up, we've created a progress report to show you what we were able to accomplish with your gifts. Click here to learn more and donate to help us continue these programs again for our upcoming 2017-2018 year!
---
Volunteer Center Night at Chipotle
Make dinner a selfless act by joining us at Chipotle in Hermosa Beach on Sunday, July 30.
Stop in any time between 5:00 and 9:00 p.m. Bring a printed copy of this flyer, show it on your smartphone or tell the cashier you're supporting the Volunteer Center when you order and we will get 50% of the proceeds!
---
Coloring Cards for a Cause
Did you buy one or more meditative coloring books with every intention of using them, but never found the time? You're not alone!
Join the Volunteer Center and destress for a few hours while giving back to the community at our inaugural Coloring Cards for a Cause event on Tuesday, August 1. Click here for details.
---
Community Volunteer Awards Luncheon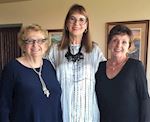 The Affinity Group honored Jean Adelsman, Ann Buxton and Joyce Kochanowski for their outstanding contributions to the community at a luncheon on Thursday, June 21, 2017 at the Palos Verdes Golf Club, benefiting the Volunteer Center's Operation Teddy Bear®. The luncheon also featured a performance by singer Jeralyn Glass. Click here for more information about the event and this year's honorees.
---
CVC Supports the Special Olympics

The Corporate Volunteer Council (CVC) sponsored a booth at the recent 2017 Special Olympics' Southern California Summer Games in Long Beach as their summer service project. Volunteers from CVC member organizations Green Dart, MOOG and Saatchi & Saatchi helped the athletes from across Southern California decorate crowns and masks to wear around the two-day event.
If you would like to participate in coordinated, multi-organization volunteer service projects like this one, as well as increase the visibility of your business's community engagement, and learn new ways to promote corporate philanthropy and employee volunteerism at your organization, click here to learn more about the Corporate Volunteer Council and become a member today!
---
Five Durfee Family Scholarships Awarded
The Volunteer Center recently awarded five $800 Durfee Family Scholarships to local high school seniors to assist them with the cost of classes and materials during their first year of college. We received applications from dozens of dedicated and deserving college bound students. In addition to strong academic performance and a passion for serving their community, the five students were selected for maintaining a positive attitude while overcoming a unique set of challenges. Click here to read more.
---
Long Beach Serves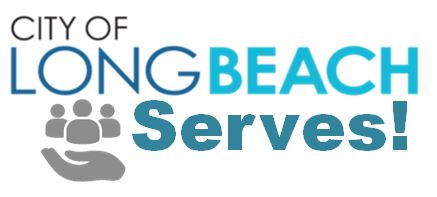 We are proud to be a part of a citywide effort to promote volunteerism in Long Beach. Residents are encouraged to give back and donate time to helping the nonprofits in Long Beach and share their experiences with the hashtag #LBServes.
---